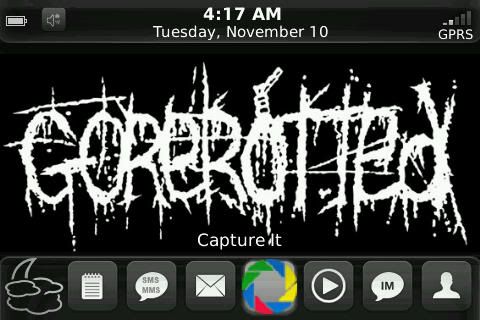 Okay, from now on, each time I change my blackberry theme, I'll try to screen print- it and upload here on my useless blog.
Why gorerotted? Cause back in the day when I was in high school, I fell in love with their album "mutilated in minute". I'd say the band genre was goregrind, horror telling lyrics, gore and all the mess. What's ironic, is that I hated gore movies, disturbing pictures, and all disgusting things. Doesn't mean I hate the music. In fact my music taste could be confusing sometimes.
Gorerotted was splitted in 2008 and re-formed with new members as "The Rotted" and I could careless. I wasn't a huge fan or whatsoever. For me, I love music from it sounds, not all the movements and all. I even love most of 80's 90's straight edge bands mostly, though I've never been that straight.
I don't know and I don't care. I like what I like and hate what I hate.